RIGID PET FILM
Most films we taled is a flexible film. They are used in packing and printing. There is a flexible film, there is rigid film. Or called rigid sheet.Rigid PET Film is also a kind of pet film. The rigid pet film production method is coextruded film.It is also called APET film.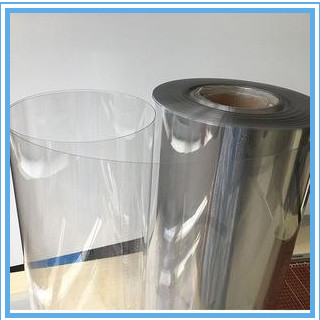 PET Rigid film has a high glossy and transparency,Good thermoforming and printing performance,which Can be widely used in including vacuum forming, food packaging, folding boxes, etc
Products Details:
1.Thickness 0.10-0.8mm(100-800microns)
2.Width Max:800mm
3.Hardness: Rigid
4.Color: clear/transparent and colored.
5.Core Tube: 3"
6.Package:by sheet or roll
Features :
1.Excellent transparency ,
2.chemical and oil Resistance ,
3.gas and water resistance ,
4.high impact resistance ,
5.non toxic and odorless .
Application:
1.For blister packing ,
2.Folding box,
3.Offset printing,
4.Vacuum forming,
5.Food tray packing,
6.Cup lids
7.Metallizing .
In them, the thermoforming box or bliseter box is the most applications.As rigid PET blister box,it has below freatures:
The PET blister box has good mechanical properties. The impact strength is 3-5 times that of other films, and the folding resistance is good;
PET blister box is resistant to oil, fat, dilute acid and alkali, and most solvents;
The PET blister box has excellent high and low temperature resistance. It can be used for a long time in the temperature range of 120℃. Can withstand 150℃ high temperature and -70℃ low temperature in short-term use;
The gas and water vapor permeability of the PET blister box is low. Has excellent barrier properties of gas, water, oil and peculiar smell;
PET blister box has high transparency. It can block ultraviolet rays and has good gloss;
The PET blister box is non-toxic, tasteless, and has good hygiene and safety performance. It can be directly used for food packaging.
The basic Production technology of Blister products
Production process flow chart of Blister products :
Sheet raw materials—blister forming— semi-finished product inspection— packaging and punching— finished product inspection — warehousing
Related Products