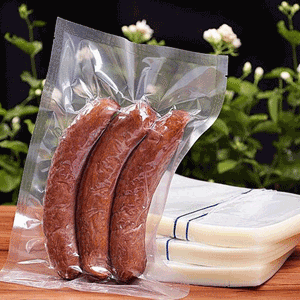 Vacuum sealer bags for Food
DEHUI Vacuum sealer bags are made with high-quality materials that are BPA-free and FDA-approved for food storage. All storage bags can be frozen, boiled, microwaved, and used for sous vide.
Our Vacuum sealer bags are made from our Vacuum Plastic Packaging Bag Roll. So they have the same features.
Vacuum Plastic Packaging Bag Roll
High Quality: Our vacuum sealer rolls are non-toxic, good vacuum effect, high transparency, easy sealing to heat, durability etc.
Universal Sealer Bags: one side of the vacuum sealer bag is embossed(texture), another side glossy transparent design, 600 cm per roll, can be used on all leading brand vacuum sealers.
Classic Texture Design: 4 mil classic texture design bags with embossed air extraction channels, which block both oxygen and moisture to keep the freshness maximize, eliminating the burn of the freezer and keep the food fresh and tasty.
Cut freely & Reusable: Accurate cutting of your bags you need. These vacuum sealer rolls are suitable for family, no waste of material, and no waste of space.
FDA and LFGB Approved & BPA Free: Vacuum sealer bags can be heated, frozen, reusable, washed, boiled and dishwasher. Great for Sous Vide cooking.
Our food vacuum seal bags and rolls are perfect for
1. Sous vide kitchen, freezer and refrigerator.2. Microwave use
3. to keep fresh and crispy fruits and vegetables.
4. to avoid being frozen refrigerated, keeping the succulent steak.
5. packing of valuables and household items away from dust, moisture
1. BPA-free, FDA approval2. Made from durable 4 Mil materials can withstand pitting and tearing.
3. Helps slow down food deterioration, not moist.
4. Helps slow down food degradation and defense against the freezer burn.
5. Helps keep fruits and vegetables fresh and tasty
Vacuum Sealer Bag Thickness
DEHUI vacuum sealer bags are available in 3 different thicknesses to provide the best options for your vacuum packaging needs.
3-Mil Bags The 3-mil bag is the industry standard. These economical bags are suitable for most applications and ideal for filets and other soft body items.
4-Mil Bags The 4-mil bag is a premium grade vacuum bag is made for medium to heavy-duty applications such as packaging bone-in cuts of meat.
5-Mil Bags The 5-Mil bag is built for heavy-duty packaging applications that have a lot of sharp artifacts such as bones, spines or an exoskeleton.
Bone Guard The VacMaster Bone Guard reduces the risk of puncture due to sharp objects that can damage a bag during the vacuum process.