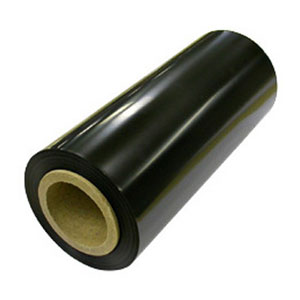 Black Polyester Film, Black PET Film for sale
Thickness: 25mic – 300mic
MOQ: 1000kgs
Surface: Glossy and Matt
---
Description
Black Polyester Film is made from a special color masterbatch. (Chip dyed BOPET film). It has high black coverage, high mechanical property, and heat stability. It is widely used for insulation tape, insulation application,light-shielding or shade tape
Dehui Film is a black PET Film, Mylar Pet Film, Black Film Insulation Film manufacturer/factory, wholesale high-quality products of PET Black Film. Our Black PET film With perfect after-sales service and technical support.Hope we can do the best service for you.At the same time, we can also provide other colors of PET color film.
Recommended thickness: 50 um, 75 um 100 um, 125 um, 150 um, 175 um, 188 um and 250 um, 300um.
Standard width: 1000mm/1010mm/1020mm.
2 Main Types
Glossy Black Polyester Film
Matt Black Polyester Film
Feature
High coverage of black
Good flatness, permanent black color, smooth, bright surface
Dimension stability, High mechanical property, and heat resistance
A black film with low light transmittance
Uniform corona
Excellent electrical insulation properties.
Good tensile strength
Aging resistance
Specification
| | | | |
| --- | --- | --- | --- |
| Item | Unit | Index | Test condition |
| Thickness Range | | | 25 mic to 300mic |
| Thickness tolerance | % | ≤3 | GB/T6682-2001 |
| Transmittance | % | ≤2 | GB/T 2410-2008 |
| Tensile strength MD | Mpa | ≥170 | GB/T 1040.3 |
| Tensile strength–TD | Mpa | ≥170 | GB/T 1040.3 |
| Elongation at–MD | % | ≥90 | GB/T 1040.3 |
| Break–TD | % | ≥90 | GB/T 1040.3 |
| Heat shrinkage (150℃30min)–MD | % | ≤1.4 | GB/T 16958-2008 |
| Heat shrinkage (150℃30min)–TD | % | ≤0.2 | GB/T 16958-2008 |
| Haze | % | ≥98 | GB/T 2410-2008 |
| Gloss | % | ≥100 | GB/T 2410-2008 |
| Surface tension | Dyn/cm | ≥52 | GB/T 14216-2008 |
Applications
electronic equipment
Shading piece, electrical insulation,
Adhesive tapes
R type transformer Outsourcing,
Building components
Furniture surfaces
Sound film diaphragm manufacturing,
Shading screen
RFQ
Related Products