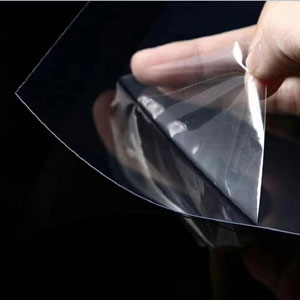 PET Protective Film for sale
Thickness: 75 mic – 250 mic
Surface: Glossy,Matte
MOQ:1 Ton
---
Description
PET Protective Film material is transparent and colorless. The surface has been hardened treatment. The hardening value of the surface is between 3H-4H. The better the surface hardening, the stronger its wear resistance. Light transmittance is also the main property of PET protective film materials. Generally, the light transmittance is above 90%. The high light transmittance not only allows us to have a good visual effect when using related instruments, but also has a good protective effect on the eyes.
We are PET protective film manufacturing factory in China for all kinds of PET film for protection.
We have PET silicone adhesive-coated protective film and PMMA (Acrylic) adhesive protective film.
| | |
| --- | --- |
| 1. BOPET protective film which coated silicone | 2. BOPET protective film which coated PMMA adhesive (Acrylic adhesive) |
| The application is for PDA panels, smartphone panels, mobile phones panels, Notebook computer screens, LCD screens. furthermore, it is also mass used under several manufacturing processing in the factory | The application is to protect photoelectric product's surface, e.g. LCD monitor, NB, Touch panel, Cell phone, PDA, MP3, Digital camera…etc |
PS: It is also mass used under several manufacturing processing in factories when customers want to cost down in using silicone coated protective film.
Features
 BOPET Protective film is a polyester film made from stretched polyethylene terephthalate (PET) and is used for its high tensile strength, chemical and dimensional stability, transparency, reflectivity, gas and aroma barrier properties, and electrical insulation etc.
High cleanliness
Contain no glue residue
Good mechanical properties, impact strength is other films 3~5 times, good folding resistance.
High transparency, UV blocking, good luster.
Specification
| | | | | | | | | | |
| --- | --- | --- | --- | --- | --- | --- | --- | --- | --- |
| Product Thickness | Unit | 50 um | 75 um | 100 um | 100 um | 100 um | 100 um | 38 um | 38 um |
| Adhesive Type | — | Silicone | Silicone | Silicone | Silicone | Silicone | Silicone | Acrylic | Acrylic |
| Total Thickness | µm | 58±3 | 85±3 | 110±3 | 110±3 | 120±3 | 120±5 | 50±2 | 50±2 |
| SubstrateThickness | µm | 50±2 | 75±2 | 100±2 | 100±2 | 100±2 | 100±3 | 38±2 | 38±2 |
| Adhesive Thickness | µm | 8±2 | 8±2 | 8±2 | 12±2 | 20±2 | 20±2 | 12±2 | 12±2 |
| ReleaseThickness | µm | 50±2 | 50±2 | 50±2 | 50±2 | 50±2 | 50±1 | — | — |
| Withstanding time | Min. | 180~240 | 180~240 | 180~240 | 180~240 | 180~240 | 180~240 | 90~120 | 90~120 |
| Adhesion | g / inch | 5 | 5 | 5 | 5 | 5 | 12 | 12 | 8~10 |
| Total light transmission | % | 88 | 88 | 88 | 88 | 88 | 90↑ | 87 | 87 |
| Hardness of PET surface | H | — | — | — | — | — | 2~3 | — | — |
| Thermal Resistant Range | °C | -20~+160 | -20~+160 | -20~+160 | -20~+160 | -20~+160 | -40~+140 | -40~+120 | -40~+160 |
| Remarks | / | Few bubbles | Few bubbles | Few bubbles | Low bubble | Super low bubble | Low Adhesion, High Absorbability, No Residue | No Residue, Easy to Peel Off | Thermal Resistant, No residue easy to peel off |
Related Product