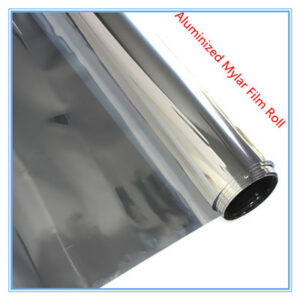 Aluminized Mylar Film, Metallized Mylar Film for sale
Thickness: 12 micron-200 micron
Color: Silver
Surface: Aluminum
Description
Aluminized Mylar Film is metalized PET film. It Is metalizing of PET film under vacuum conditions. It achieves special optical properties and reduces the diffusion of gases and flavors through the film. The most commonly used metal is aluminum but other metals can be applied also.
Dehui Film is the Aluminized Mylar Film supplier from China. We can provide different thicknesses and applications request Mylar Films.
Aluminized Mylar Properties
Specification
Metalized PET film for Cardboard and Insulation Solution
Width: 50mm – 2540mm
Standard Width: 1020mm, 1050mm
Length: 3,000m – 50,000m
Application: used for cardboard lamination or PE coating for insulation material.
Optical Density (OD): 0.2 – 3.5
Due to its high surface energy, a high metal adhesion, as well as good homogeneity of the metal layer, is achieved, leading to high oxygen and general gas barrier as well as a significant improvement of the water vapor barrier.
Related Products