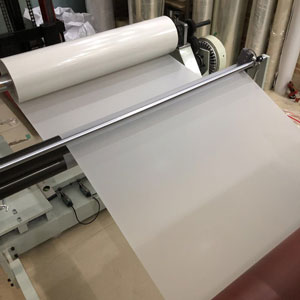 Matt PET Film for sale at competitive price
Thickness: 12um – 75um
MOQ:1000 KGS
Desceiption
What is Matt PET film? Matt PET Film is a kind of Bi-axially Oriented Polyester film. It has medium haze and glosses with an excellent matt & grainy surface. Matte pet film has a matt surface which is different from gloss pet film. It is made of special PET masterbatch and widely applied in the label, tape, release coating, steel lamination and also can be used as stamping foils, heat transfer foil for wallpaper, cloth, leather, photo frame, etc.
We are a professional manufacturer and supplier of matte pet film, matte polyester film.
Thickness
From 12um – 75um
Standard packing: suspension pallet
Welcome to contact us for TDS and quotations.
Features
Different surface gloss and matte effect depending on different application,Even thickness, Good dimensional stability, Excellent processing ability.
1) Excellent matte effect  
2) Semi-transparent, low gloss 
3) Good lamination and printing property  
Surface Treatment
One side corona (Or None corona)
Our clear non-corona treated pet film also can be used for heat transfer printing applications.
Applications
Releasing
Hot stamping foil
Printing
Matte pet film can be used in flexible packaging to achieve matte finish appearance.Luxury packaging applications requiring premium matte finish such as wet wipes, pouches, chicken bags, potato chips
For thermal transfer printing 
For Carton lamination 
Label face stock
  This film is available in clear and metalized versions. The clear version may have further options like corona treated, chemically treated or any custom priming. The metalized version also has multiple options based on adhesion and barrier requirements.
  Application: It is made of special PET masterbatch and widely applied in the label, tape, release coating, steel lamination and used as stamping base film for wallpaper, cloth, leather, photo frame
Related Products