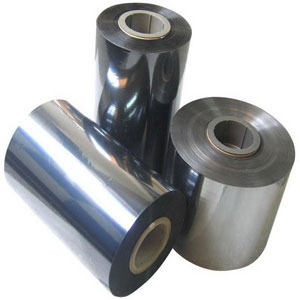 Metallized PET Film,Metallized Polyester Film for sale
Thickness:6mic –250mic
MOQ: 1 Ton
---
Description
Metallized PET Film is a Vacuum Metallized Polyester Film flexible packaging material coated with a thin layer of metallic aluminum.
The base pet film used is one side corona treated polyester film. By high temperature under a high vacuum, the aluminum melt was evaporated. The metalized pet film is widely used for printing, lamination,food packaging, decorative purposes, construction, and also for specialty applications including insulation and electronics.
On the types,it can be Heat Seal Metallized Film,High Barrier & High Adhesion Metallized Film, Matte Metallized Film, White Metallized Film,Cooper, Gold Colored Metallized PET. It is cheap and beautiful, with excellent performance, practical packaging materials.
Dehui Film is Metallized Polyester Film manufacturer and exporter.The thinnest thickness we did is 6 micron.
Features:
Dimensional Accuracy.
Durable. 
Smooth Texture.
High bond strength between Aluminum layer and base film, good brightness.
Good barrier property Good mechanical property
Metallized PET film TDS
Specifications
| | |
| --- | --- |
| Product Names: | VMPET, Metallized polyester film |
| Color | Silver |
| Thickness | 6mic –250mic |
| Width | 20mm–2500mm |
| Roll Length | 3000m 6000m as different thickness |
| Corona Treatment | Single side/both side |
| Core Tube | 3″ 6″ |
| Products Process | 1. base film 2. metalizing 3. rewinding 4. Packing |
Applications as per Specifications:
  • 6 Micron -> Mainly used for lamination with board to manufacture disposable item.
  • 8/9 & 10 Micron -> Mainly used for printing industry to manufacture laminate pouches also used in off set printing
  • 12 Micron -> Mainly used in rotogravure printing for manufacturing laminates.
  • 15 & 19 Micron -> These materials are twist and mainly used in confectionery industry for wrapping sweets and chocolates.
  • 25 Micron -> mainly used for label application.
  • 30 Micron and 36 Micron -> Mainly used for manufacturing Mehandi cones.
  • 50 Micron -> Used in labels application and label application.Used in sequence film application
  • 75, 100, 125, 200 Micron -> Used for sequence film and electrical application for motor windingUsed for window lamination in corrugate boxes.
RFQ
1-Metallized PET Film names?
VMPET, Metallized polyester film, metalized BOPET film, metalized PET Films
2-Different spells of Metallized, Metalized, Metallised, Metallised PET film?
They are different from the spelling habit.Same meaning!
Related Products