目录
What is PET Protective Film?
PET Protective Film is transparent and colorless. It's the roll type of film that has an adhesive layer of acrylic or silicone or urethane on PET film. The surface has been hardened treatment. It's ideal for protecting products in the middle of processing and releasing. Also able to protect the screen of mobile devices in daily lives. The hardening value of the surface is between 3H-4H. The better the surface hardening, the stronger its wear resistance.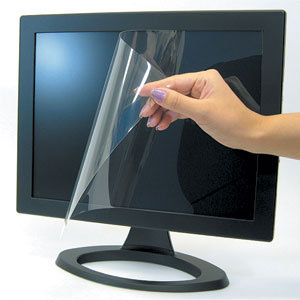 Types of PET protective film
1-Classified by glue
silicone PET protective film, acrylic plastic PET protective film, PU plastic PET protective film.
2-Classified by use
The biggest use is mainly screen protection film, surface protection of optical products, etc.
PET Protective Film Features
♦ It has suitable bonding strength to various pasted objects such as metal, plastic, glass, etc., and good holding performance.
♦ Low viscosity, the surface of the protective film is smooth and flat
♦ Good weather resistance, heat resistance, acid, and alkali resistance
Dehui PET Protective film products
Dehui Film is PET protective film supplier with variry types.
1-Red PET protective film
There are two types of red PET protective film:
One is that the membrane itself is red, and the glue is transparent. Another is that the membrane itself is transparent and the glue is red.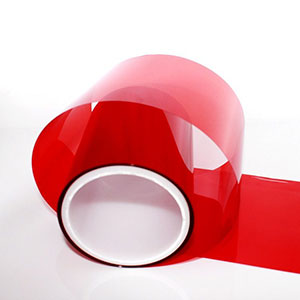 This kind of red PET protective film is relatively easy to produce. The price is relatively low. For occasions where the red color depth is not particularly high, the cost can be effectively reduced.
Double-layer red PET protective film: 9+2.5 silk (the film is red), silica gel.
Single-layer red PET protective film: 6 filaments, high viscosity. (Can be used as a label)
2–PU protective film performance introduction:
PU protective film is the most common type of protective paste on the market. PU protective film has excellent characteristics such as heat resistance, chemical resistance, electrical insulation, safety, and toughness, and it is inexpensive. In addition, it has the characteristics of relatively hard texture and is relatively scratch-resistant. It is the first choice for electronic protective film.
Thickness: 60μm/0.06mm
Color: transparent
Manufacturing process: manufactured in a clean and clean environment in a thousand-level dust-free workshop, and the products are transparent and clean.
Polyurethane adhesive design. Low adhesion, thick adhesion, little change in adhesion over time. High humidity and pollution-free, with a certain degree of automatic adsorption. Super bubble effect. Used for glass lens protection without fogging.
Mainly suitable for capacitive screen process and shipment protection. Suitable for mobile phone COVER LENS process and shipment protection.
3–Anti-static acrylic protective film
Use PET (polyester film) as the base material. A protective film made of acrylic glue coated on one side. It can be divided into three categories: low viscosity, medium viscosity, and high viscosity. To meet the technical requirements of different products. All kinds of anti-static protective film products for different purposes. The surface resistance reaches 10 (6-9) Ω. The anti-static performance is lasting and stable.

Acrylic PET protective film application
The touch screen of mobile electronic products, glass lenses, various panels are made and the surface protection of products shipped.
Surface material protection and prevention of static electricity during the production process of FPC, PCB, and electronic components.
Printing function
Protection of cell phone button coating process.
Plastic parts shell, diffusion film surface, PORON and other foam punching protection.
Product Features
Produced in a purification workshop ≤1000, with excellent appearance.
The product has high cleanliness, good transparency and good weather resistance.
Easy to peel off, no residual glue, no traces, and low pollution by small molecules after pasting.
Surface anti-static 10 (6-9) Ω, separation friction voltage ≤100V, static dissipation ≤0.8S
4–Silicone PET protective film
Silicone PET protective film Product structure:
PET substrate + silica gel + PET release film
The protective film is made of polyester film PET as the base material and polyethylene terephthalate as the raw material. Extrusion is used to make thick sheets. Film material made by biaxial stretching.

Features
Easy to peel, no residual glue, stable viscosity
The protective film with release material is dust-free coating and has high cleanliness
Suitable for surface protection of PC, PMMA, ABS, metal and glass related products
Silicone PET protective film usage
Surface protection film for mobile phone lens, polarizer, LCD optical lens manufacturing process. LCD display panel.
Protection of touch screen manufacturing process.
Temporary carrier after optoelectronic materials is formed.
PET Protective Film HS code
PET Protective Film HS Code:39206200
If you have any requests about the PET protective films, kindly contact us freely.
Related Products | Articles