PET film is our common film, and it is also used in many fields. According to its different uses, PET film is divided into PET barrier film, PET heat sealing film, PET release film, PET protective film, PET shrink film and so on. This article introduces you to a PET transfer film that can be used in the printing industry.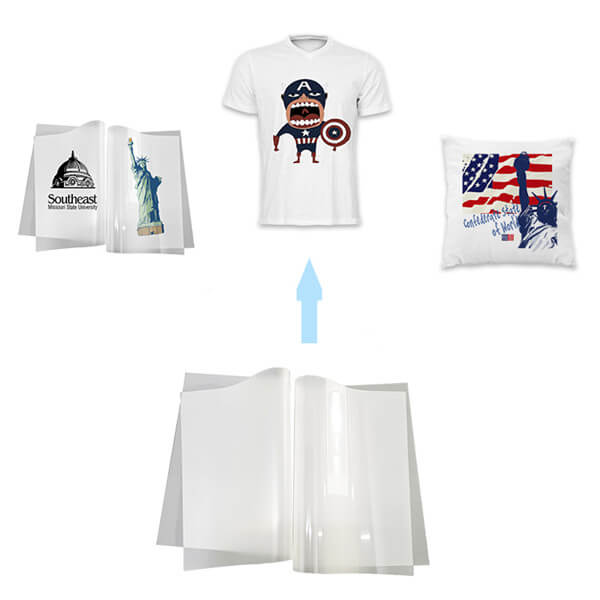 What is PET transfer film?
PET transfer film is a film used for printing on fabrics. This printing process has two steps:
Print the pattern on PET film. The film is then heated and the pattern imprinted on the fabric.
This printing method is also called DTF (DIRECT TO FILM) printing. PET films are different from screen-printed films. PET film is thinner and has better transfer characteristics for DTF printing.
Another classification of PET transfer films is based on the type of peel after transfer. It can be classified as hot-peel film or cold peel film.
Advantages of PET transfer film for DTF
Good quality: double printing, which can make the pattern color beautiful and realistic and can guarantee the printing quality.
Less mistakes: We can check the print on paper before printing the pattern on the fabric. This reduces printing defects on the fabric.
Wide choice of patterns/colors: In PET film transfer, there is no limit to the number of colors used.
Convenient operation: The operation process of PET film transfer is very simple. And does not require high maintenance.
Wide range of applications: PET transfer films can be used on all kinds of fabrics, be it cotton, silk, leather, canvas or any other type of fabric.

Recyclable: PET film is recyclable. In some cases, not only environmental protection but also cost savings.
Use less ink: strong ink absorption ability and thick ink absorption layer.
Of course, PET transfer film also has excellent physical and mechanical properties, low thermal shrinkage, and good mold release.
PET transfer film size
Our common PET transfer films are available as sheet films for small-scale use and roll films for commercial use. The specific size can refer to the following:
A3 size PET transfer film: 11.7 x 16.5 inches
A4 size PET transfer film: 8.3 x 11.7 inches
Roll PET transfer film: We can customize the size according to the customer's request.
If you need any size PET transfer film, feel free to contact us.
PET transfer film manufacturer
PET film can be used for DTF printing. But not every type of PET film is suitable for DTF printing. For best results, choose a printable double-coated PET transfer film. Below is the structure diagram of our double-coated PET film for DTF:
Likewise, our PET transfer films offer the following advantages:
Both sides of the film have a better antistatic effects.
There is also a release layer on the back of the film, which can ensure that the rolled pattern after printing and drying will not stick to the back of the film.
Double-sided lamination can better improve the accuracy of the printer.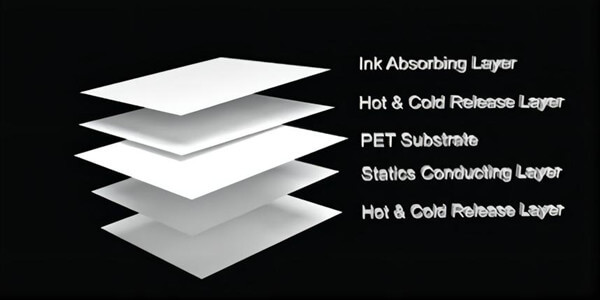 Untreated films may be cheaper, but the quality of such films cannot match the performance of double-sided cold peel films. Inexpensive films may stain, not accept adhesives, or ruin your clothing. The dedicated PET transfer film is specially treated to withstand the high temperature and high pressure of the heat press.
Our PET transfer films are specially designed for DTF printers. Non-slip, oil-free, non-stick, non-static, uniform coating, easy to peel. For the convenience of customers, we also accept single-size and roll purchases.
At the same time, we also produce other types of PET films. If you have any needs, you can contact us at any time. email: info@dhfilmtech.com
Related Products